Greetings All,
As I am sure many of you have seen by now, Gov. Lamont's office issued Executive Order 7H on Friday evening asking Connecticut businesses and residents to "Stay safe, stay home," beginning Monday, March 23rd at 8 p.m. and continuing through April 22nd, 2020. Which means we will continue to deliver our program through distance learning in weekly chunks through Friday, April 24, 2020 unless the executive order is earlier modified, extended or terminated.
I realize many universities and boarding schools have made the decision to extend distance learning to the end of the school year. However, the continually evolving situation regarding the pandemic, as well as our status as an independent day school with a student body composed entirely of minors puts us in a different situation. We believe it is our responsibility to keep our options open and remain agile in our decision making regarding the remainder of the school year. Please know we are committed to communicating with you all as soon as practical as decisions are made regarding any extension to distance learning or the re-opening of campus. When I think back to the hugs and handshakes of our opening days in September, I really could not have imagined welcoming you back from break this way.
I know this ever-evolving situation might feel disorienting and stressful. You are not alone! We are all trying to figure out how to stay connected and centered. Please trust we are staying on top of the changes and doing everything we can to smooth the way for you as much as possible and reduce stress in any way we can. As always, please feel free to reach out with any questions, thoughts or concerns.
It is my honor to lead this phenomenal community through these interesting times and I am confident we will come out on the other side of this challenge stronger. It has been truly awesome working with our faculty and administration as we all navigate the herculean effort of adapting our program for distance learning. I am so proud of the collaboration, creativity, grace and courtesy evident in these endeavors.
Sincerely,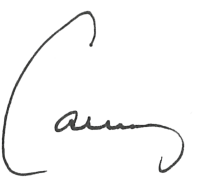 Carney M. Heavey O'Brien
Head of School