Greetings All,
I am so appreciative of your supportive and encouraging outreach this week as we plan for our new school year. I recognize how challenging this spring has been as we all—students, parents, teachers, administration and trustees—navigate the unknown. I remain unwaveringly impressed with our community's grace and resilience! Through our greatest challenges, we have seen the Washington Montessori community at its best. WMS staffulty rose, as they are wont to—with creativity, empathy, passion and dedication. Students and families at all levels and circumstances embraced the challenge, engaging in online connections, modeling wonderful examples of Montessori innovation and adaptation, and expanding their work and learning independently across diverse and challenging conditions. WMS parents and alumni have been—not surprisingly—outstanding, supporting the school generously, and finding inspiring ways to remain connected.
With this spirit of connection and resilience, I am confident in the work we will continue to do as we prepare for the 2020-2021 school year. As we imagine our WMS future together, we all collectively search for solid answers. Although current epidemiological projections do not clearly pave a definitive path for the fall, the State of Connecticut has recently provided some guidelines which will establish the basic "gating" conditions for school campuses to reopen. This is good news.
Last week, our state released the Reopen Connecticut Advisory Committee's Report of the Higher Education Subcommittee, co-authored by former Yale President Rick Levin and former Yale Provost Linda Lorimer and broadly endorsed by Governor Ned Lamont and Senator Chris Murphy. This report offers the first step in recognizing the part ALL educational institutions play in the educational and economical health of our state. While we expect a report with guidance more specifically focused on K-12 schools in the next week or so, the higher ed report along with recent Executive Orders directed towards summer programs provides some basic foundational guidance for planning.
First, the report, along with the CT state Office of Early Childhood provides "gating conditions," which, if met, would allow schools to implement plans to reopen their campuses. These conditions include a sustained and flattened rate of new hospitalizations, adequate supplies of diagnostic testing, capacity for contact tracing, and guidelines for hygiene, physical distancing and density of community spaces.
Second, the report recommends each institution develops well-documented plans for reconvening for learning together on campus, monitoring health conditions, containing the spread of the virus when detected, and shutting down physical campuses if necessary.
Finally, the report acknowledges the unpredictable course of the COVID-19 pandemic and the necessity for all institutions to be nimble in their thinking. If one or more gating conditions are not met, schools will have to plan to operate remotely. All considered, WMS will be prepared for all eventualities of on-campus, remote, and hybrid models.
For the past several weeks, our Emergency Task Force has been engaged in the kind of planning the report advocates. This work is informed and guided by local, state, and national health officials, Montessori and independent school associations, as well as weekly collaborative consultations with multiple cohorts of educational leaders. This synergetic spirit is shared throughout the educational community as all schools pursue planning for best practices.
I continue to maintain a realistic optimism we will commence with learning on campus this fall, albeit in ways that will look different than we have known in the past. While I recognize the gating conditions are stringent, the COVID landscape is dynamic, and the work ahead is daunting, I am confident the team at WMS is up to the task. Although we ALL would like a clear-cut picture of our school days for the fall now, as you can tell from the report, our decisions are inherently tied to the gating conditions set by the state. If we are able to welcome students in our building in September, much will be the same–we will continue to be a community grounded in the Montessori approach, and we will continue to foster academic excellence through the development of responsibility, self-esteem and self-reliance. Our students will continue to benefit from a personalized program, dedicated teachers, and a carefully-considered curriculum inspiring creativity and independent thinking. We all will continue to recognize our individual and collective potential, and develop thoughtful approaches to learning.
Much will need to change as well. We will be prepared to offer both on-campus and remote learning. We will be prepared to test community members, establish new social distancing practices, and adjust our daily routines and facilities to decrease density in classroom spaces. Our extended day programming, including MAP, WRAP, and middle school athletics, may look very different. Some adults will be working remotely. As we realize we will be navigating life with COVID-19 for the foreseeable future, we need to expand our understanding of what WMS is and can be–a responsibility both challenging and exciting. We can do this. As I noted in my letter to you all at the beginning of the month, the legacy of Washington Montessori is one of resilience, grace, courage and devotion.
Whether the gating conditions required by the state will be met we cannot say. The work required over the next three months is substantive and engaging–we're used to that. We will review the lessons learned during our period of distance learning; faculty will continue to evolve our educational program over the summer; and the task force will further its work on preparing to open in the fall. We will be ready for this changing world.
With sincere gratitude for all you do, who you are, and the opportunity to serve this phenomenal community,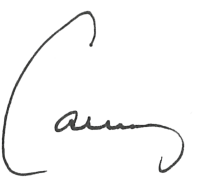 Carney M. Heavey O'Brien
Head of School